Architects & Designers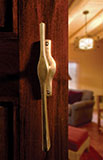 Specification
Hardware Renaissance is sold only through authorized dealers listed on the website, but we are happy to assist in specifying our products. You can expect exceptionally personal service from our dedicated team. We'd love to hear from you!
---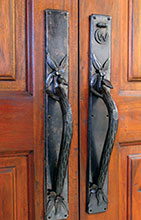 Custom Design
We welcome design professionals whose high end residential or hospitality projects require more than production styles of hardware. Our blacksmiths and bronze pattern-makers are able to create the custom hardware to fit your project at very reasonable custom work charges. Contact us for a quote!
Our hand forged iron styles are all "from the anvil" hand-made. The material is mild steel and is heated in hot coal until red-hot. The blacksmith then hammers the piece into the desired style. While the hardware is all hand made, the internal working components include brass bushings to provide the smoothest operation possible.
Many companies offer hardware that is called forged, but it is actually cast from forged patterns. There is no comparison with our GENUINE hand forged products, which come with either the traditional hot wax finish or with very unique custom patinas.
---
Custom Patinas
Our Santa Fe patina artists offer exceptional patinas in both hand-forged iron and solid bronze. We would be happy to explore a custom patina for your specific project.